It's a dot picture but "CERO Z"! The worst puzzle "Ken Yabatanien", a new scenario is added and appears on the switch. What is rescue "difficult for your spirit" !?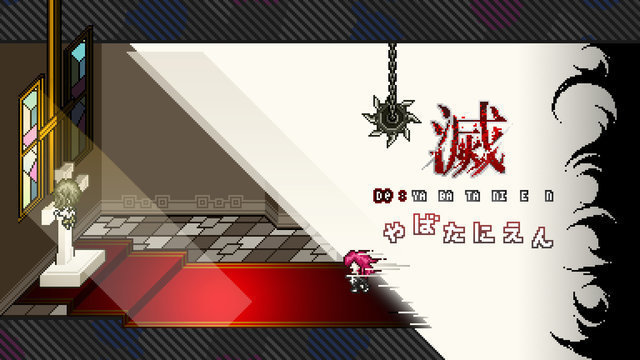 Register announced that it will release Nintendo Switch Software "Ken Yabatanien" on February 27, 2020. In addition, we started downloading beforehand.
This is an escape game for Nintendo Switch, adding new elements to "Yabata Nien" released for iOS / Android.
Set in a house full of horrible traps, we aim to rescue the captive girls.
Depending on the number of people who helped, the outcome will diverge, but the game nature with puzzle elements is fully responsive.
As the situation changes from moment to moment depending on the player's actions, users will need to identify and inspire their ideas.
The visual of this work is a graphic with a dot taste as you can see at a glance.
However, when the trap is activated, a bloody cruel show occurs.
The impact is considerable, though not realistic.
In the smartphone version, the rating was over 16 years old (Google Play) and over 17 years old (App Store), but "Destruction" further increased to "CERO Z".
The mercy of depiction can be conveyed even based on the points that are categorized here.
But this work is not only cruel. The user reviews of the app version are high, and all received 4.5 or more (at 19:00 on February 20).
This work has both cruelty and difficulty, but also has a high level of user satisfaction.
Based on the app version, this work with a new scenario `` Destruction / Yabatanien '' exploring the mystery of the Blair family pedigree is not only for those who have not experienced it, but also for users who played the app version It can be said that it is one work that becomes.
Promotional videos that convey the charm of this work are also released, but please refrain from those under 18 years old because it is a video of CERO Z work.
By the way, not only the game screen but also some interesting messages popped up in this video.
Here are some of the messages for those who do not see or are afraid to see the video.
■ The message in the video of "Destruction"
・ "The human body is stronger than you think"
"It's very difficult to rescue everyone, it's not a puzzle, it's hard for your spirit."
・ "Escape like never before!
・ "It's better than dying ..."

■ URL of "Ken Yabatanien"
https://www.youtube.com/watch?v=YieTtvDpfcI

■ Download URL of "Ken Yabatanien" in advance
https://ec.nintendo.com/JP/ja/titles/70010000027728
As you can see in the title, "Yu-Kat-Bat-A-Nen" has a terrible feeling.
The release date is February 27, and the price is 1,496 yen (tax included). Until 23:59 on March 15, it can be purchased at the sale price of 987 yen (tax included).
If you are interested, you can get "Dark Yabatanien" at a great price.
Nintendo switch software "Ken Yabatanien"


"That new sensation's worst puzzle" Yatabaten "has brought a new stage."

What is "Destruction"
This is a completely new puzzle solving and adventure game based on an escape game.
Aim at the escape while releasing the girls trapped in the mansion by a horrible trap.
Once the trap is activated, a bloody cruel show occurs.
And the end branches depending on the number of rescued girls.

Added a new scenario "Destruction / Yatabatani" as a new element! We approach mystery that we could not know only in original version!

■ Overview
The system called "STEP," a new sense concept, changes the surrounding environment by moving the map and specific actions.
(* The ice melts due to the increase of "STEP", the electric saw teeth approach, etc.)

Changes in the environment due to the progress of the "STEP" not only stimulate a lazy map search, but also require a high-dimensional strategy, which requires you to take appropriate action after determining the timing, there is a sense of tension Provide a user experience.

■ Product information
Title: Destruction
Genre: Puzzle & Adventure Game
Number of players: 1
Release date: Thursday, February 27, 2020
Regular price: 1,496 yen (tax included)
CERO: "Z" 18 years old or older
Applicable models: Nintendo Switch
Supported languages: Japanese and English
Official HP: http://regista.co.jp//games/DeYABATANIEN/